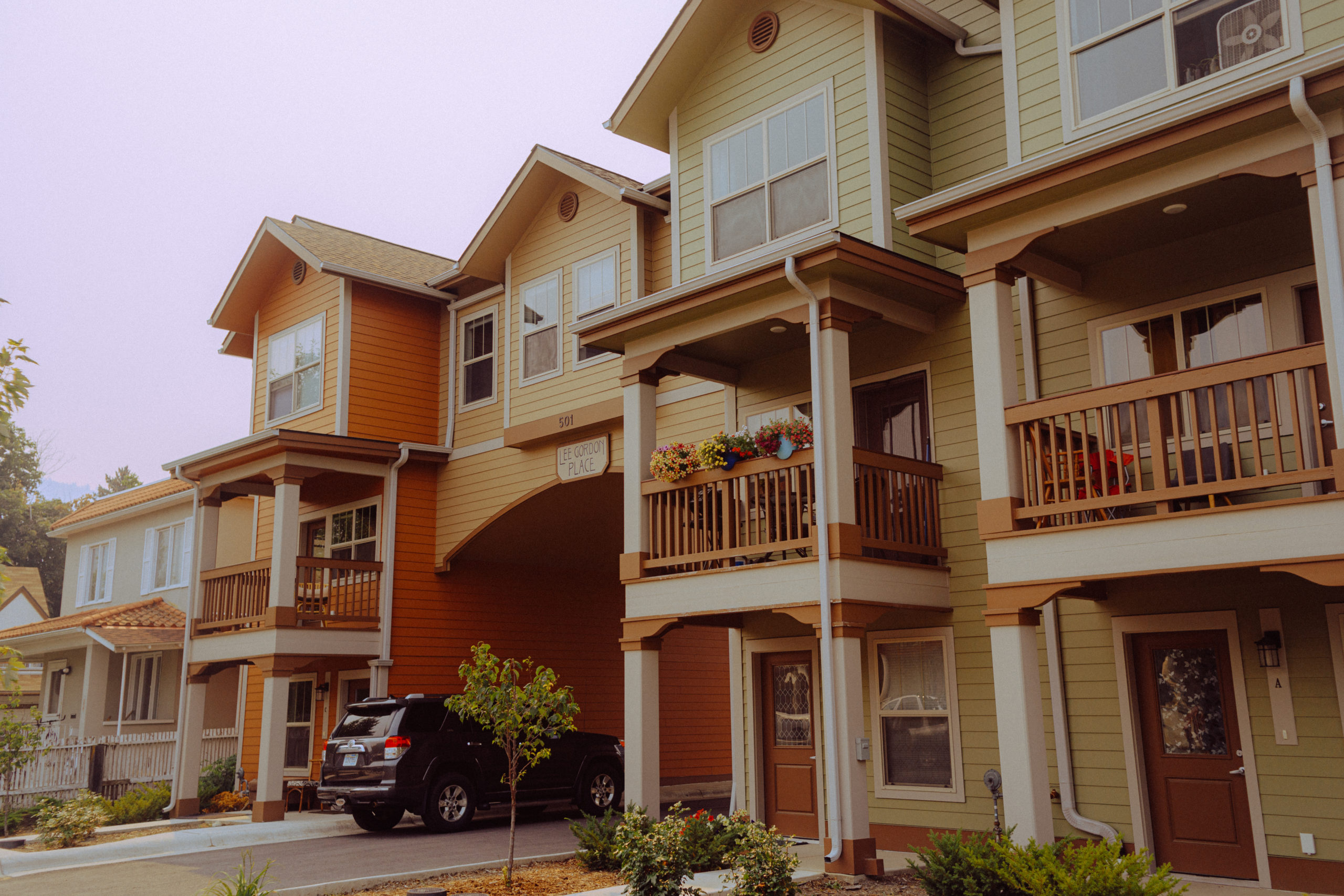 Community Land Trust Housing
Developing Homes that are Permanently Affordable
North-Missoula Community Development Corporation (NMCDC) is a Missoula-based community land trust that develops and stewards permanently affordable homes for people who otherwise would not be able to access homeownership. The first community land trust established in the state of Montana, NMCDC has successfully developed and stewards 54 permanently affordable homes in the Northside, Westside, and Heart of Missoula neighborhoods that have served over 110 Missoula families.
What is a Community Land Trust (CLT)?
A community land trust (CLT) is a nonprofit organization that holds land in trust for a community in order to provide lasting assets and shared equity homeownership opportunities for everyday neighbors.
Governed by a Board of Directors made up of CLT residents, neighbors, and public representatives, CLTs create permanent affordability by separating the land from the improvement (the home or commercial building), investing subsidy, and enforcing a resale restriction. This model ensures that the initial subsidy is never lost, and that the homes remain affordable forever. When a CLT homeowner is ready to move on, they leave with their earned equity and a limited amount of unearned equity.
NMCDC takes the "community" part of CLT seriously. As opposed to a housing land trust, we seek to facilitate relationship building and community connections between neighbors so we can act together to build power and get our needs met, even those unrelated to housing. For more information on this visit our community organizing page and learn about the Northside-Westside CREW!
How do Community Land Trusts work?
A CLT creates housing opportunities by either purchasing land that includes existing housing, or by partnering to develop new housing on vacant land.
An income-qualified family or individual purchases a home that sits on land owned by the CLT. The purchase price is more affordable than market-rate homes because the value of the land does not factor into the home price; instead, the new homeowner is buying the home and leasing the land.
The new homeowner leases the land from the CLT in a long-term (often 99-year), renewable lease. The ground lease includes a resale formula that indicates a maximum resale price for the home.
When they're ready to move on, the homeowner agrees to sell the home at a restricted price to keep it affordable in perpetuity, but they may be able to realize appreciation from improvements they make while they live in the house in addition to their equity and a limited amount of unearned equity according to how long they have lived in the home.
What is permanent affordability and why is it important in our community?
Missoula is in a housing crisis. Everyday people in Missoula County who earn the minimum wage must work 81 hours a week to be able to afford the average rent, and the median home price reached $450,000 in July of 2021. Through the community land trust model, NMCDC offers homeownership to people that otherwise would not be able to access affordable housing.

Central to this model is the idea of permanent affordability. While some new developments will advertise homes as affordable, the first time they turn over in ownership they are sold according to what the market will bear. Community land trust homes, on the other hand, remain affordable in perpetuity due to the restricted resale value dictated in each homeowner's ground lease.

The sale prices of NMCDC's CLT homes, while increasing, has remained consistently below the increase in median market-rate home prices. This demonstrates the effectiveness of the initial subsidy invested in the creation of below market rate housing, secured for 80% area median income (AMI) households, both over time and through multiple resales. While the Missoula housing market experienced a decline in housing prices during the late 2000s, NMCDC homes remained below market value, and the gap between the CLT homes sale price and market-rate home sale price continues to widen as the strength of the housing market increases.
Permanently affordable shared-equity housing has many benefits including:
Increased neighborhood preservation, revitalization, and stability
Lower rates of foreclosure during times of economic crisis and overall
Increased equity in who can access to homeownership, and therefore build wealth
Stability of housing prices in the face of gentrification pressures
Community building opportunities for neighbors, facilitated by a neighborhood-based organization
Are you an agent?
Check out these tip sheets for information on smoothly facilitating a sale!
Our Properties
Our Properties
Whittier Court
Built in 2002
5 Homes
Number of bedrooms: 2 to 3
NMCDC's first development, Whittier Court features five two- and three-bedroom single family homes in the Northside neighborhood. Development involved the rehabilitation and restoration of an existing 1940s era house and the construction of four additional detached single family homes on the same property. Since its completion, Whittier Court has become a model for affordable housing projects, winning an award from the Missoula Historic Preservation Commission for "Sympathetic Infill Development in a Historic Neighborhood".
Clark Fork Commons
Built in 2006
25 homes

22 two-bedroom multi-story townhomes
2 accessible two-bedroom single-story homes
1 multi-story three-bedroom home
Located along the Clark Fork River and Riverfront Trail System on the north side of the river between Russell and California Street. This unique location provides homeowners with bike/pedestrian access to many conveniences essential to healthy living, leaving residents just minutes via foot or bike from important infrastructure such as the Missoula Carousel, Dragons Hollow Park, McCormick Park, Historic Downtown Missoula, and several amenities such as a large grocery store, St. Patrick's hospital, and the neighborhood elementary school.
Burns Street Commons
Built in 2008
17 townhomes
Number of bedrooms: 1, 2, and 3
Burns Street Commons was constructed with energy efficiency in mind and is located in Missoula's historic Westside neighborhood. It includes townhomes of various configurations and is adjacent to the Burns Street Center, a community-oriented commercial space developed by NMCDC. NMCDC's office is located here, in addition to three local business tenants: the Western Montana Growers Co-op, Plant Perks, and Burns Street Bistro. Burns St. Commons conveniently sits two blocks from the City bus stop.
Lee Gordon Place
Built in 2019
7 homes

5 two-bedroom homes
2 four-bedroom homes
NMCDC is proud to bring seven townhomes to Missoula's fast-changing Heart of Missoula/Downtown neighborhood. Lee Gordon Place is located across the street from the new library site, adjacent to Kiwanis Park, and two blocks from the Missoula Children's Theater. This project was made possible by the Lee Gordon family's generous donation of the land to the NMCDC in 2015.
Interested in Purchasing one of our CLT Homes?
Fill out our homebuyer application to join the interest list, and visit the homebuyer resources page to learn more about the program!
Are you a Current CLT Owner with Questions About Policy?
Visit our resource page for current NMCDC homeowners and feel free to reach out!
Homeowner Testimonials
Curious about what it's like to own a CLT home? Want to know more about how CLT homeownership affects neighbors' ability to generate wealth and stability in their own lives? Learn from our very own current and past homeowners. Thanks to Trust Montana, our statewide community land trust, for creating these videos!
Support NMCDC's work in the community!